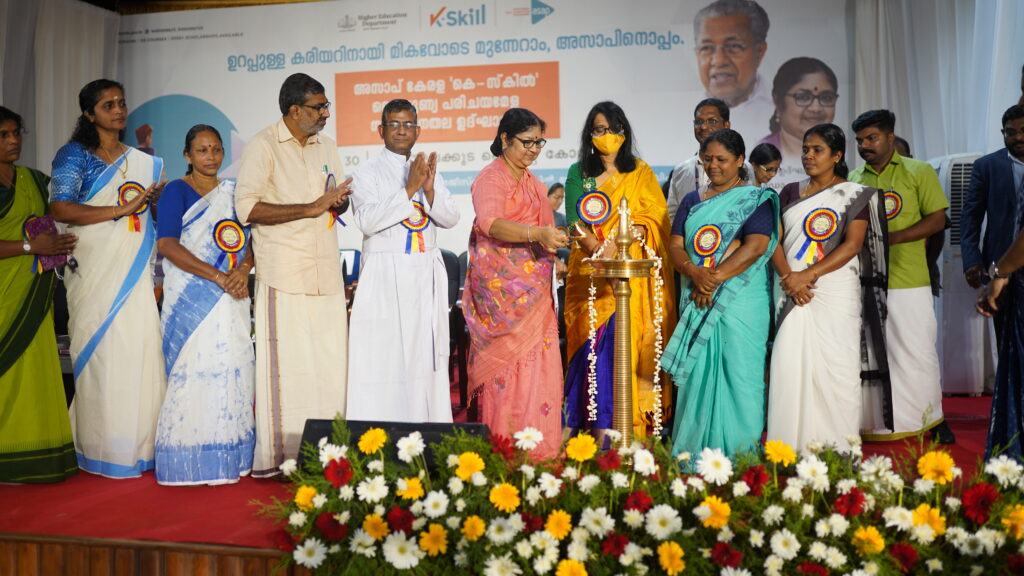 CARVING A COMPETENT KERALA, ONE LEADER A TIME!
The state-level Skill Fair — Naipunya Parichaya Mela — was inaugurated by Dr R Bindu, Hon'ble Minister for Higher Education and Social Justice, at Christ College, Iringalakuda, on July 30.
The pan-Kerala Skill Fair has been conceptualised by ASAP Kerala to create a deployable workforce to administer government's objective of creating employment for 20 lakh people for Kerala's knowledge-based economy.
While inaugurating the fair, the hon'ble minister said, "While traditional courses are confined within the four walls of classrooms, there is a need to provide practical training as lack of skills hinders employment. Actions to bridge the skill gap between education and employment will be implemented through ASAP Kerala. Skill fairs are a big step towards actualising this objective".
Rev. Fr. Jolly Andrews, Christ College Principal, presided over the event, and Dr Usha Titus ASAP Kerala Chairperson and Managing Director, delivered the keynote address, in the presence of state and district officials, faculty members and students.
Highlights:
▶️ Skill talks led by experts in technical and non-technical fields
▶️ Placement grooming sessions
▶️ 30 kiosks of contemporary fields of work
▶️ Online registration for short-term skill courses of ASAP Kerala
▶️ Scholarships and skill loan details enumerated