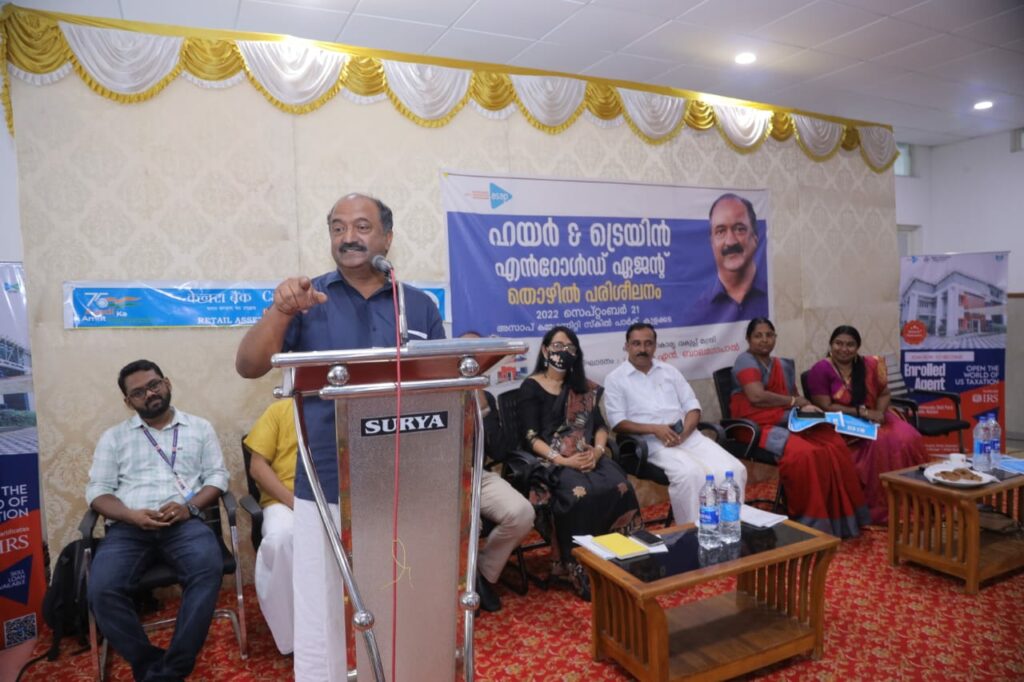 Shri KN Balagopal inaugurates Enrolled Agent orientation
Training on the 'hire and train' model gets underway at Kulakkada CSP
Employment-assured training courses on the model of 'hire and train' introduced by ASAP Kerala were inaugurated by Shri KN Balagopal, Hon'ble Finance Minister, Government of Kerala, at the Community Skill Park (CSP) in Kulakkada, Kollam, on September 21, 2022.
The model, introduced for the first time in the state, will train graduates and final-year students of Commerce, BBA and MBA to be Enrolled Agents. The four-month training programme will enable students to appear for the Special Enrollment Test conducted by the US Internal Revenue Service. Students who successfully complete the course and receive a certificate will be authorised to file tax returns on behalf of US taxpayers.
The Hon'ble Finance Minister announced that efforts will be made to provide education with scholarships to the students of the first batch.
The new courses and training schemes are being organised as part of the state government's education scheme to create more employment opportunities for unemployed graduates in rural areas.
Adv PT Indukumar, President, Kulakkada Panchayat; Dr Usha Titus, CMD, ASAP Kerala; Dr S Ayub, Pro Vice-Chancellor, KTU; Mr Anoop Ambika, CEO, Kerala Startup Mission; Ms Kavitha L, Vice-President, Kulakkada Panchayat;
and representatives from Canara Bank, CSP training partner PrepQ and Entigrity addressed the gathering.
As part of an agreement signed by ASAP Kerala with Entigrity, students signing up for the Enrolled Agent course offered by ASAP Kerala will be provided placement assurance. This initiative is part of Recruitment 2.0 –  a first-of-its-kind 'recruit, train and deploy' model adopted in the state. Interested candidates will have to appear for an assessment undertaken by ASAP Kerala, and the qualifying candidates will be provided conditional offer letters, followed by extensive training in EA. On the successful completion of the training, Entigrity will offer employment after an evaluation.