ASPIRE – 2023 @ IRINJALAKUDA: Your Path to a Bright Future!
Welcome to ASPIRE – 2023 @ IRINJALAKUDA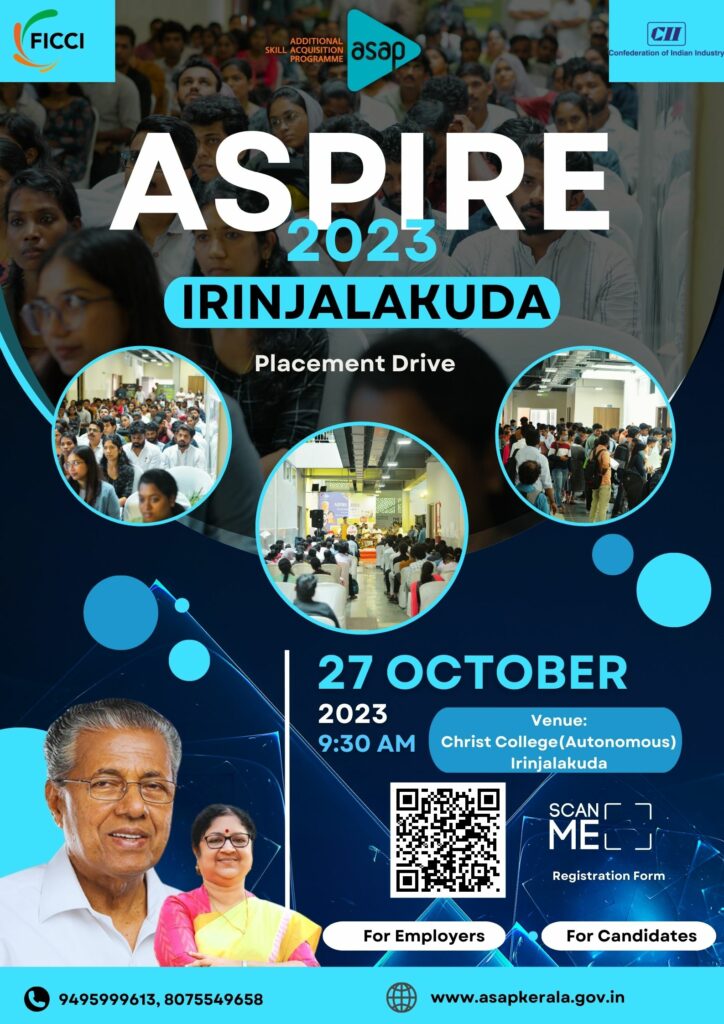 Are you ready to take charge of your future and embark on a rewarding career journey? Look no further! Register with us today for an exclusive opportunity to transform your life.
ASAP Kerala proudly presents ASPIRE – 2023 @ IRINJALAKUDA, a comprehensive placement drive scheduled for the 27th of October 2023, at the Christ College (Autonomous), Irinjalakuda. Join us, as we kickstart this momentous event with the esteemed presence of Dr. R. Bindu, the Honourable Minister of Higher Education & Social Justice in Kerala.
This incredible placement drive is designed to cater to a diverse range of aspiring candidates, including final-year students of B.Tech/M.Tech, B.Com/M.Com, MCA, BBA/MBA, and B.Sc./M.Sc., as well as graduates seeking a new career direction. Candidates with qualifications of 10 th and above are also being considered for the drive. Best of all, participation in this drive is absolutely free for ASAP Kerala-trained candidates who have completed industry-relevant skill courses.
At ASPIRE – 2023 @ IRINJALAKUDA, we leave no stone unturned in bringing you the most exceptional opportunities. Our job fair provides a platform for you to connect with industry-leading companies across various sectors. Whether you're a fresh graduate or an experienced professional, we ensure that the doors of success are open wide for you.
Don't miss out on this remarkable chance to shape your future. Register now and let ASPIRE – 2023 @ IRINJALAKUDA be your catalyst for success!
Note: Please make sure you complete the registration at the earliest!
Registration fee:
Registration fee: Free for ASAP Kerala – trained candidates, INR 200/- for non-ASAP Kerala candidates.
Process Flow:
Registration- Complete the registration process on the website.
2. Payment (Non-ASAP Kerala Candidates Only): Make the registration fee payment of INR 200/-.
3. Confirmation: Receive a confirmation email with further instructions.
4. Document Verification- Bring the following documents for verification:
Original and photocopies of educational certificates
Updated resume
ID Proof – Adhar Card
Passport-size photographs
ASAP Kerala training completion certificate (for ASAP trained candidates)