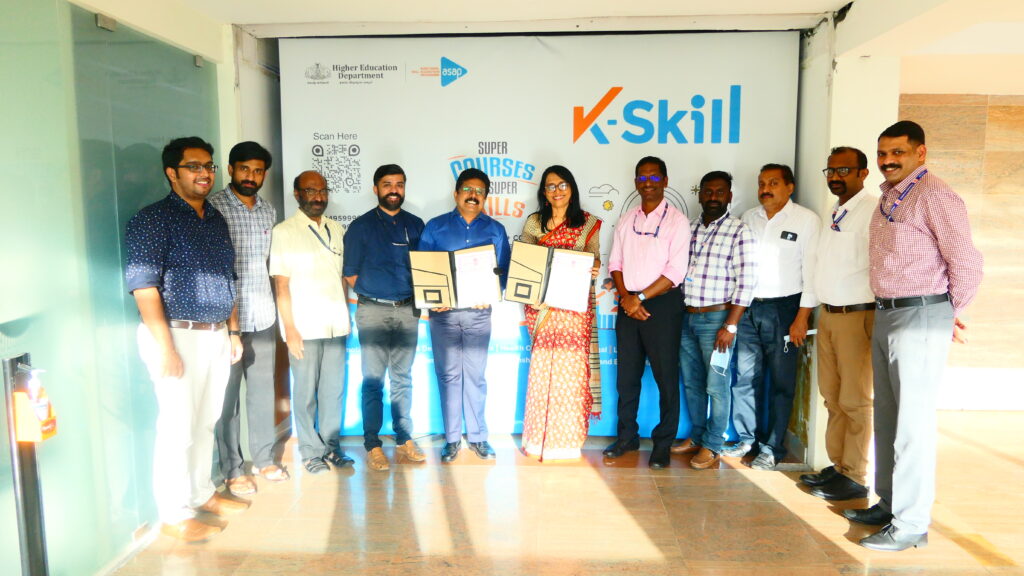 ASAP Kerala teams up with KSUM to foster entrepreneurship in Kerala
ASAP Kerala teams up with KSUM to foster entrepreneurship in Kerala
In a momentous move to promote innovation and entrepreneurship development in the state, ASAP Kerala executed a Memorandum of Understanding (MoU) with Kerala Startup Mission (KSUM) on September 13, 2022. The MoU was signed by Dr Usha Titus, Chairperson and Managing Director, ASAP Kerala, and Mr Anoop Ambika, CEO, KSUM. 
As part of the collaboration, ASAP Kerala will provide skill training on higher-order skills required by startups to students and the general public in emerging sectors like machine learning, business analytics, cyber security, cloud engineering/ computing, Python, AR/VR, digital marketing, etc. It will groom students for the recruitment of startups recommended by KSUM. ASAP Kerala will also provide training on business operation skills like business correspondent and business facilitator, IT security, banking, securities market and insurance professional, etc. ASAP Kerala will also be developing a Business Leadership Programme, jointly with leading Business Schools in the state to foster skill sets in finance, HR management, marketing, etc.
In response to the requirements of startups/ industries, ASAP Kerala will develop custom-made courses in new-age skill sets in collaboration with subject-matter experts and industry experts, which will be facilitated by KSUM. A talent pool with skills, certification and internships for a ready-to-employ workforce will be created. ASAP Kerala and KSUM will also facilitate the interaction between startups and students of higher education institutions during the incubation stage at KSUM. 
ASAP Kerala will extend the service as a recruitment agency for startups under a 'Recruit-Train-Deploy' model, while KSUM will facilitate the aggregation of jobs under different job roles pertaining to startups registered with KSUM or at incubation at various Technology Business Incubators.
ASAP Kerala will also act as a nodal agency for startups to retain the talent pool for temporary staffing, and for skilled resources to find suitable employment in alternate companies. KSUM will also set up its satellite centres for startups at ASAP Community Skill Parks.