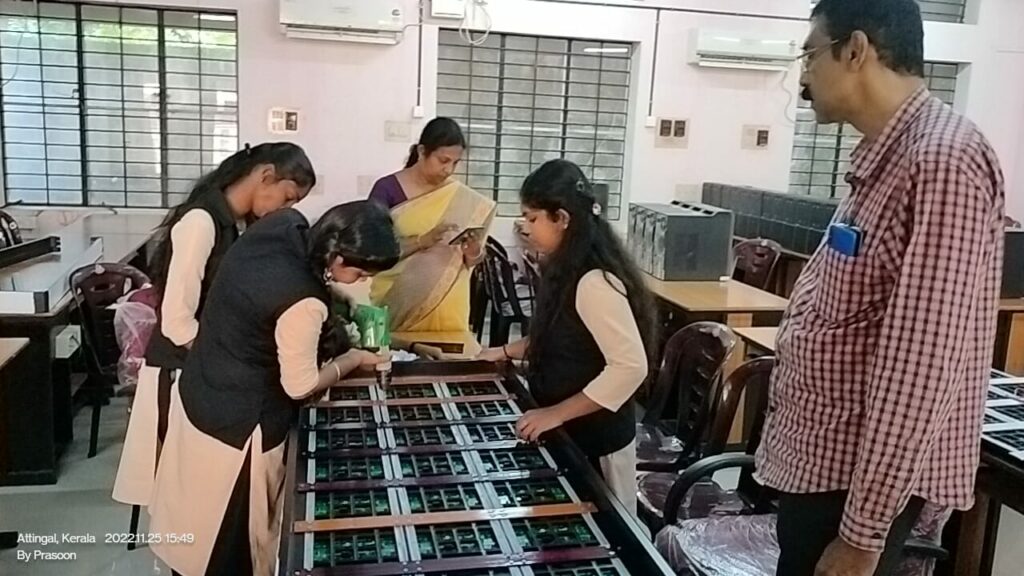 Attingal GPTC to be first polytechnic in Kerala to offer stipend to female students through IoC
In a first in the state, all the female students of Government Polytechnic College (GPTC), Attingal, will earn a monthly stipend as a part of the Industry on Campus (IoC) initiative of ASAP Kerala.  
IoC was awarded a contract to manufacture and install 40 LED video walls at 40 Grama Panchayath offices in Kerala, as part of the Jal Jeevan Mission activities implemented by the Kerala Association for Rural Development's (KARD) Implementation Support Agency (ISA). Following discussions with the principals of various polytechnic colleges, the Principal of Government Polytechnic College (GPTC), Attingal, expressed interest in taking on the project and implementing it through the IoC programme. 
SHE-BIZ, an IoC unit of women students formed at GPTC Attingal, has accepted the work order. Of these, six female engineering students have been trained in video wall assembly and programming by ASAP Kerala. They are now qualified master trainers, and will impart training to the other female students of the unit. "She-Biz is a one-of-its-kind initiative in Kerala instituted under ASAP Kerala's IOC initiative, that will provide girl students with a monthly stipend in exchange for their efforts. Of the 720 students, there are 72 girl students in our college. Most girls lack confidence to take up work independently. Even their parents are hesitant to encourage them to take up entrepreneurship. Through SHE-BIS, we intend to break that stream of thought. We wanted to go beyond sloganeering for women equity and implement substantial projects. The Continuing Education Cell is executing the role of a mentor, while remarkable training is being provided by ASAP Kerala. We can already see a marked difference in the girls' confidence since the beginning of the training. We will provide the girls with a monthly stipend of at least Rs 5,000. This project will undoubtedly boost students' morale and encourage more polytechnic college students to pursue entrepreneurial opportunities.," said Mr Shajil Anthru, Principal, GPTC Attingal.
The primary objective of SHE-BIZ is for female college students to create the aforementioned video walls and to distribute the revenue generated as a monthly stipend to the female students. The principal and students aim to complete the entire process in less than 100 days.
"As we are students, the task seemed daunting, at first. However, the hands-on training provided by ASAP Kerala enabled us to confidently face the challenge of assembling and programming video walls. Also, the thought that we'll be receiving a part of the revenue generated gives us immense pleasure, and it will definitely be a support to our parents," shared Sreelakshmi, a student and member of SHE-BIZ, GPTC Attingal.